Education is everyone's responsibility.
Together, we can make access to quality education a reality for all Filipino children.
Education plays an important role in reducing poverty and improving the lives of individuals, their families, and communities.
But in the Philippines,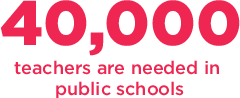 Help more Filipino children get access to quality education.
Teach for the Philippines believes that within our lifetime, all Filipino children can have access to relevant and excellent education. We can achieve this by enlisting the country's young leaders to teach for 2 years in public schools.
"Being a teacher, I hear hundreds of children telling their stories everyday, all of them powerful. My hope is that I will be able to help them believe in the beauty of their own stories."
—Irish Deocampo, 2015 Alumna Fellow, Graduate of AB English Studies, University of the Philippines Diliman
How will you leave your mark?
As Teacher Fellows, you will embark on a 2-year leadership development program as fully paid teachers in a public school. Through training and experience, you will become an Alumni leader who will eventually transform the Philippine education landscape.
You can become a Champion for Teach for the Philippines through various donation channels. Your support will enable us to enlist and empower Teacher Fellows who can create change in their school communities and our country.
Teach for the Philippines is accredited by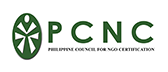 Philippine Council for NGO Certification
The Philippine Council for NGO Certification or PCNC is a private voluntary, non-stock, non-profit corporation that will serve as a service organization whose main function is to certify non-profit organizations that meet established minimum criteria for financial management and accountability in the service to underprivileged Filipinos.

Securities and Exchange Commission
The Securities and Exchange Commission shall have the powers and functions provided by the Securities Regulation Code, Presidential Decree No. 902-A, as amended, the Corporation Code, the Investment Houses Law, the Financing Company Act, and other existing laws.
Association of Foundations
Established in November 1972, the Association of Foundations (AF) is the country's first network of NGOs. Its mission is to enable its member foundations to develop sustainable programs that serve their communities. Through the years, AF has become a bridge to grant opportunities, capacity builder, data bank, consultant, and an advocate of key issues. It is committed to the constant growth and professionalism of its member foundations in their efforts to improve the quality of human life.

Bureau of Internal Revenue
The Bureau of Internal Revenue is mandated by law to assess and collect all national internal revenue taxes, fees, and charges, and to enforce all forfeitures, penalties, and fines connected therewith, including the execution of judgments in all cases decided in its favor by the Court of Tax Appeals and the ordinary courts.