As a teacher, I can't think of any issue more important than ensuring that the rights of every child are upheld and protected. As such, the experience in Bantayan taught me how important it is for teaching to be free of discrimination and should contribute to the holistic development of learners for them to become engaged, responsible and contributing members of the society.
What struck me during the processing of one the activities was when some of the participants mistook some of their "needs" as "wants". As had been explained to them, "wants" are the things they can forgo in life and that the "needs" are the things they can't live without and are therefore important for their growth and development. Their needs are their rights. So when some of the children thought that they can only "want" play and nutritious food was indicative of how important it is to include the rights of children alongside our curricula for math, science and languages. In this way, our children will be given the opportunity to understand and exercise their rights responsibly as part of their duties as citizens of this country.
The experience also taught me the meaning of the word diskarte. In teaching as in life, not everything always go according to plan but it's no reason to give up entirely when one is thrown a curve ball. Fortunately in our case, three heads thinking together made it easier for the team to facilitate a workshop originally designed for 40 into a workshop for more than 150 participants.  We welcomed  DHL staff;s help in facilitating as well!  It was a delight to see the kids enjoy themselves in the activities and learning from them under the most summer-idyllic  of circumstances—the fine sand, intense heat, clear seas and palm trees.
It has been said that it takes a village to raise a child. The responsibility of educating the Filipino learners is not the sole task of the Department of Education or a select few but of everyone. It's for this reason that one of TFP's core values is focused on building partnership and collaboration. To have DHL rally with us towards our mission of providing excellent and quality education is a testament to how much we can do together to improve the lives of Filipinos.
– Ems Ocado, 2014 Cohort, Malaban Elementary School, Binan Laguna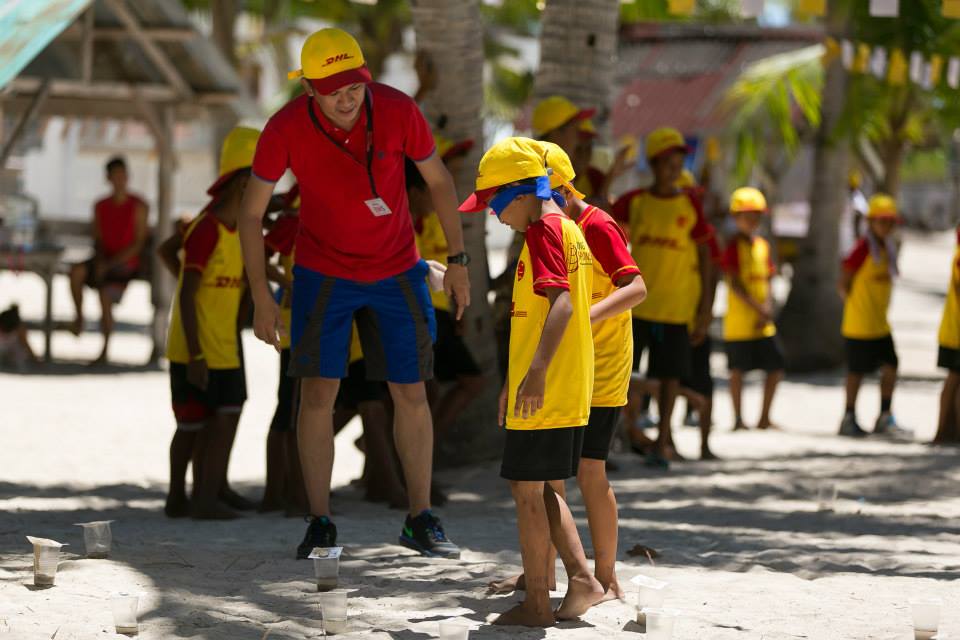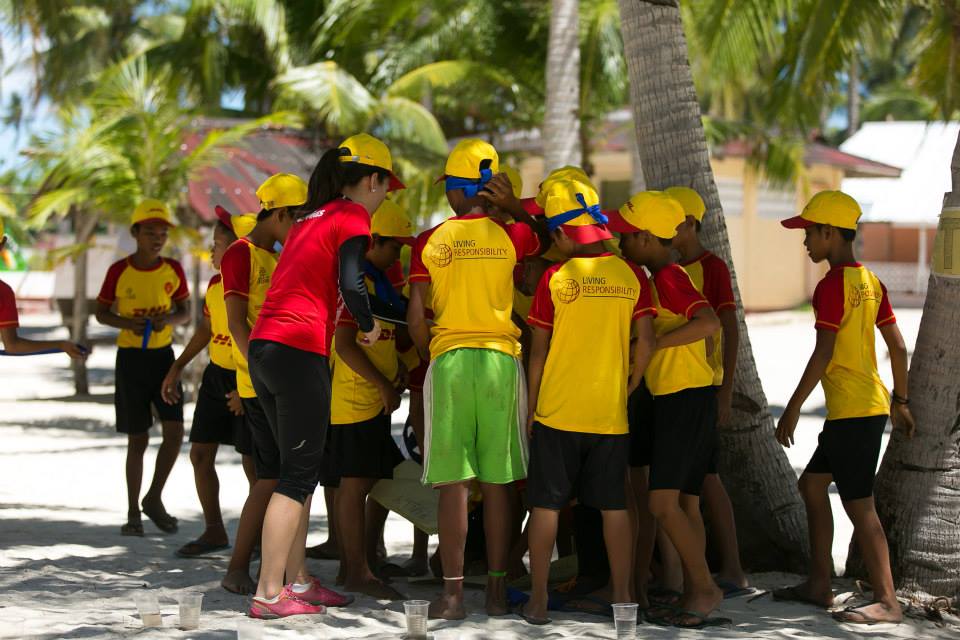 Last May 6, along with our Chief Strategic Resources Officer Patricia Feria, my co-Teacher Fellow Ems Ocado and I facilitated a workshop on Children's Rights for the Field of Hope participants in Bantayan Island, Cebu.
This experience gave me the opportunity to translate the skills and knowledge I know about classroom teaching to a workshop with over 150 participants.
Learning is fun and can happen anywhere.
I experienced in my first year of teaching that kids enjoy learning more and they learn more when we let them move in class. When they are bored, they will show it. In our workshop, we made things exciting by conducting games instead of the usual lectures. From navigating a "minefield" of cups to crossing a play area, our participants energetically moved and had fun.
Learning can also happen anywhere. The white sand beaches of Bantayan Island served as our floor and the coconut trees as our roof. The energy of the kids certainly beat the summer heat.
Realizations about their rights
When each small group was classifying a set of pictures as either "needs" or "wants," surprisingly, most groups sorted "playgrounds and recreation" under the latter column. They thought, as children, to play and rest is not their right. This situation gave me my humbling "teacher moment" to guide them to the idea that needs are their rights. I left my mark by helping them realize that what they are doing – participating in a football clinic, is actually a manifestation of their right to play and rest. It was motivating to see when they started discussing about their rights and realized the importance of each right. I hope they will treasure the learning we had for a long time as they continue to grow and develop.
Teamwork
In my classroom, I am fulfilled when I see my students eagerly discuss a topic or problem during group work. Whether they get the correct answer or not, what I emphasize more is the value of communication, cooperation, and critical thinking. When our participants classified "needs" versus "wants," I saw how the Bantayan kids worked as a team as they discussed their different answers and learned from one another. Some had "Aha!" moments and eagerly shared their ideas as to why something was a need vs. a want. It was a pleasure to witness how they agreed and worked together.
New experience
Travelling by air and sea for the first time, facilitating a workshop like this one was also a first me. It was truly an honor to have been part of this initiative of DHL. The strong partnership between TFP and DHL proves that working with others is fundamental in achieving positive social change.
This memorable experience excites me to do more activities like this in the future. When classes resume on June 1, I will apply the things I learned about collaborative learning, educational games, and classroom management.
We hope our simple workshop brought smiles to the faces of the Bantayan kids as they continue to recover from the devastating Typhoon Haiyan. We planned to strengthen their understanding about their rights, and they reminded us about optimism, resiliency, and working as one for a common good.
 – Jon Pobar III, 2014 Cohort, Malaban Elementary School, Binan Laguna