It was my first time to go to my new home for the next two years. Amidst the grogginess and the fatigue, I managed to head down to General Roxas Elementary School (GRES) to be welcomed by a flood of different colors – my co-Fellows in red, the Grade 3 faculty in pink, the Grade 6 faculty in blue, the public library volunteers in violet, and other color-coded groups such that there were too many to keep track of. But aside from the colorful welcome, I was amazed by the largeness of the campus – covered courts, a new building being constructed, three-story buildings, and so on. It was the beginning of the annual Brigada Eskwela.
Brigada Eskwela lasts a week – and on the day we went, we were assigned to clean the garden area outside one of the campus' buildings. To call it very tiring would be an understatement – after around one and a half hours, a co-Fellow and I swept and threw dried leaves while seated on some benches. Yet we continued on until they told us it was time for some snacks.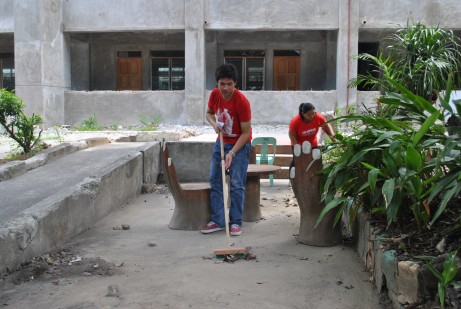 After snacks, the Fellows and I looked around and tried to peek at the Grade 3 classrooms located at the latter end of the campus. And then it finally hit me. After almost four months of agreeing to being part of this movement and after almost two months of training with my co-Fellows, it finally dawned on me – this will be where I will try to leave my mark for my next two years.
It all suddenly felt so real. Iba talaga kapag nakita mo na. I did not see a cluttered room in a blanket of dust. I did not see worn out chairs or stacks of used papers. I did not see a mess. What I saw was actually an image of me, in that classroom, teaching 45 students. I felt a chill run down my spine. It felt as if that day was the day I really became part of Teach for the Philippines.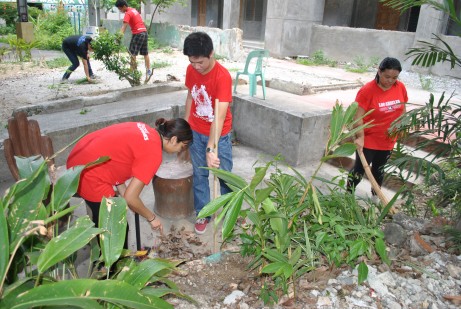 Brigada Eskwela was an amazing experience. Yes, we may have cleaned the garden, weeded out dried leaves, and brushed the pavements. But doing it in a public school and seeing our classrooms made it more than just a household chore. Throughout the whole day, you could really feel the sense of community. Being warmly welcomed was just the tip of the iceberg, really. It is with this indescribable sense of community that pushed me, and perhaps my other co-Fellows, to really clean for the school and for its students. And maybe that's why it's called Brigada Eskwela – School Brigade –  a group of people working together towards something special. It wasn't just the teachers, not just the parents, but it involves everyone willing to lend a helping hand to improve the classrooms of our public schools here in the country. We do this because the brightest minds deserve the best, and these minds deserve the best classrooms they can get.
Delfin Stephen D. Villafuerte, 20, graduated valedictorian from Ateneo de Manila University in 2013 with a Bachelor of Science degree in Management Engineering and a Bachelor of Arts degree in Economics (Honors Program). He was also recently named a regional awardee for the Ten Outstanding Students of the Philippines in the National Capital Region (NCR). Delfin is also one of five Fellows who will be teaching in General Roxas Elementary School for the next two years.