Committing two years of my life as a public school teacher is a decision questionable and surprising for many. Some would even ask why I should enter the public schools and have a difficult time when I could work in private companies. I must say, it was a hard decision to make but it is what I chose wholeheartedly; because more than deciding to be a public school teacher, I decided to change lives and have my life changed.
"Sparks" that keep me going
Describing the first month of teaching as difficult is an understatement. Every day, I would go home so tired and drained. There were also days when giving up became an option and doubts kept running through my mind. But when I'm on the verge of quitting, I am always reminded of my why.
Since I was a kid, I have always dreamt of being a superhero – someone who helps other people, saves them from harm, and who can serve as an inspiration to others. Just recently, my dream came true through one of my students.
To minimize complaints and fights, I put a box inside my classroom where students can write their grievances towards their classmates. On the first day that I put it, the box was full of complaints like "Teacher Evee, si _______, sinuntok ako," (Teacher Evee, _____ punched me), "Teacher, kinuha ni _______ yung lapis ko" (Teacher ______ took my pencil), "Si ________ po, minura ako," (______ said bad/vulgar words to me) , "Kinopyahan ni _______ si ______." (______ copied ________'s answers) and other complaints that were heartbreaking. But there was a piece of paper that magically changed how I felt. It was from a student named Bianca and she wrote, "Ikaw po ang pinili kong hero, teacher. I love you, Teacher Evee." (You are the one I picked as my hero, teacher.) After reading her note, I smiled and I felt a lot lighter. My dream actually came true — I became a hero to someone.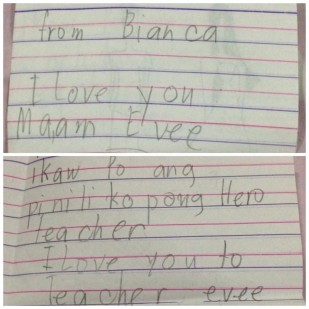 With my chosen profession, I actually thought I would be able to turn others' dreams into reality. Turns out, I was actually the one who had a dream that came true. Bianca is just one of my 250 young, everyday heroes.
Another hero of mine is Gabo, a 12 year old non-reader from my advisory class. Every day, Gabo would stay after class so that I could teach him how to read. Never did I imagine I can be patient with teaching someone a basic skill. It was the 19th of June when I was reminded again of my why. Gabo was able to read his first two words ever – "ama" (father) and "baso" (cup).
When I heard him read those two words, I looked at him and said, "Gab, nagsisimula ka nang magbasa. Nabasa mo yung salita." (Gab, you're beginning to read. You were able to read the words.) He immediately smiled, hugged me and said, "I love you, Teacher!" Before he went home, his younger brother, who is also his classmate, told me, "Teacher, si Kuya grade 1, hindi nakakabasa, grade 2, hindi pa rin nakakabasa." (Teacher, my older brother could not read in grade 1. In grade 2, he still could not read.) I replied, "Bago mag-grade 4 si Gab, marunong na siyang magbasa." (Before Gab goes to grade 4, he will have learned how to read.) They immediately hugged each other out of joy and excitement.
Kent, 9, is one of the naughtiest and noisiest students in my advisory class. He would always stand up, fight with his other classmates and be disobedient to his teachers. Every day, after class, he would stay in school to spend time with us, his teachers, and share stories.
Just last week, Kent said, "Magbabagong buhay na ako. Hindi na ako makikipag-away sa mga kaklase ko at kapag inaway nila ako, hindi ako gaganti. Ikaw nga, 'cher, hindi nananakit eh, ako pa kaya!" (I'm going to turn a new leaf. I won't pick fights with my classmates anymore and if they pick a fight with me, I won't fight back. Teacher, you don't hurt anyone, so why should I?)
From that moment on, I realized how my actions and words actually affect my students. More than his change in attitude, Kent went up to me one day asking me about college, "Teacher Evee, 'di ba taga-La Salle ka? Maganda ba doon? Gusto ko kasi mag-aral doon, o kaya sa NU o sa UP o sa Ateneo." (Teacher Evee, aren't you from La Salle? Is it nice there? I want to study there, or maybe in NU, or UP, or Ateneo.) My heart was celebrating when I heard him say those words. One of my students is actually looking forward to college, not planning to drop out, having realized the importance of education and dreaming big.
I never realized how small "sparks" can actually have a big impact. Being a public school teacher is definitely hard but I still believe everything will be worth it. I enter classrooms to teach, but I leave the classrooms taught and inspired.
Puso
I prepared a lot of tools and materials for the school year — visual aids, renovation of my classroom, resource materials and a lot more. But teaching for almost a month now has made me realize that the best tool a teacher can have is her heart. Puso. Puso for my students, their stories and their dreams. Puso for the profession. Puso for goals and missions. Puso for positive change. Puso for believing in others. Puso for falling down and standing up again.
With my short experience so far, I have realized that one of the best advantages of being a teacher is actually learning more compared to your students. I have learned more about life and love because of them. I learned to open up, to inspire and to get inspired, to love and to forgive and to continually believe in someone even when others tell me I shouldn't.
Every day, I am very thankful for each and every student that I have. I am looking forward to more days with my students— days of learning, love, challenges, realizations, sparks and heroism. I am now taking it day-by-day, step-by-step, classroom per classroom, one student at a time.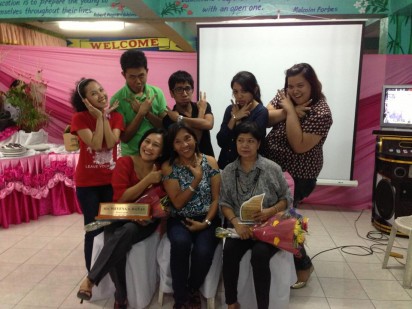 Emalinda Victoria Castañeda, or Evee, 21, graduated from De La Salle University with a Bachelor of Arts degree in Psychology. She is one of five Fellows teaching in Sto. Cristo Elementary School.