Situated near the highways and beside the wet market, one could hear the sound of drums and bell lyres as you enter the school gate. People of all ages, from children to senior citizens, eagerly awaited the start of the annual preparation for every school year. Brigada Eskwela, a nationwide effort which enables the community to participate in cleaning their local public schools, paves the way for organizations to volunteer and donate resources, for the faculty to meet the parents who will be working with them for the entire year, and for the school itself to be redecorated and given time and attention.
The staff of Commonwealth Elementary School was highly participative in this joint effort, that they regarded it as a festival of sorts – where people would come with beaming souls, excited to give back to the institution which has been molding its youth to perform better academically. With the presence of private companies dedicated to share what it can give, and the able hands and spirits of those who shared their labor – our school opened Brigada Eskwela 2013 with a parade.
As one entered a class room, everything seemed to be cloaked in gray. But we knew that nothing is impossible through faith and unity. All of us who participated in Brigada Eskwela had a common goal: to give back and to repay the education system. In the ten hours that my co-Fellows and I were in the school, we were able to help by fetching water in a pail to help wash away a year's worth of nostalgia by scrubbing the floors and the walls for a brighter start, and by fixing the furniture to create a more welcoming environment for our students. No effort was left unrecognized, and every small sweep and swipe made a difference to the school. After a day's work, our classroom (I share the room with another Fellow – Janine Dueñas, who laboriously repainted our blackboard), although not yet polished, looked brighter and cleaner.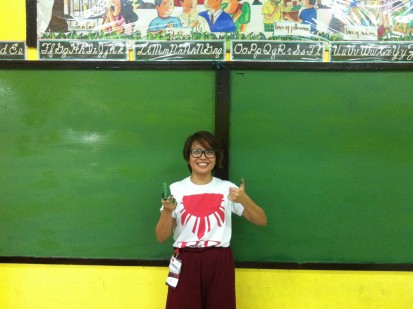 I learned during my Brigada Eskwela experience that master teachers get to teach the underachieving sections, and that they themselves choose to be with them, because these students energize them as teachers. "Masaya magturo ng underachieving section, kasi pagpasok ng mga estudyante mo, hindi sila marunong magbasa. Pero tiyaga lang. Pagkatapos ng taon, tapos marunong na sila magbasa, aba, malaking fulfillment yon!" beams my co-teacher, Mrs. Dy Tiapco.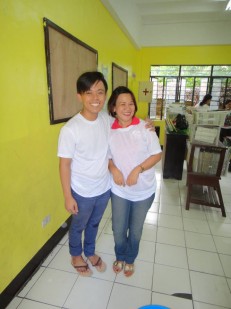 My Brigada Eskwela experience was the link between what we think about when we hear "public school" – lacking resources, lacking good and dedicated teachers, and disinterested communities – and what they really are all about. While they lack some resources, the teachers here are still thankful for what they have, and their experiences here also cultivate the love for teaching; and that communities are active, engaged, and involved.
I am thankful that I am once again in Commonwealth, coming from a two-week summer teaching program for its incoming third graders. I am thankful because I am once again with some of the students who I handled last April, and because I got acquainted with my supportive and grateful parents. But above and beyond, I am thankful because I am now a public elementary school teacher – something that I would do to repay what I have learned from my learning experiences when I myself was in public elementary school, and to inspire students through my story.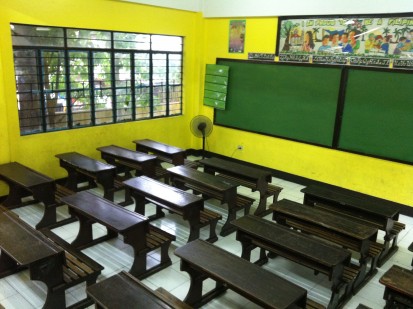 John Carlo Fernando, 22, graduated cum laude from Philippine Normal University with a Bachelor of Secondary Education degree, Major in Literature in 2011. He is also pursuing his Master's Degree in Comparative Literature at the University of the Philippines Diliman. Prior to becoming a Teach for the Philippines Fellow, Carlo taught fourth year high school students at the University of the Philippines Los Baños. He is one of eight Fellows assigned to Commonwealth Elementary School for the next two years.