DZMM-TLC (Teaching, Learning, and Caring), the public service arm of DZMM TeleRadyo, visited Sto. Cristo Elementary School for their fourth community outreach activity on September 27, 2013. This year, DZMM-TLC has been one of our partners and has been visiting our partner schools and their respective communities every last Friday of the month.
Members of the Sto. Cristo Elementary School community began entering the campus as early as 8:00 AM for the medical, dental and optical missions held at the school's covered court. There was also a mobile dermatological clinic set up by the Philippine Dermatological Society, who also prepared medicine for the parents and students. A mobile library was also parked beside the covered court where the students could go in and read books throughout the morning.
Credit Suisse Global Citizen Charles Hannant was also present at the event, reading Jo Ann Cruz's "The Monkey and the Turtle" to Grade 1-Ilang-Ilang, alongside our very own Stan Sy, who gamely translated the story into its Tagalog "Si Matsing at si Pagong".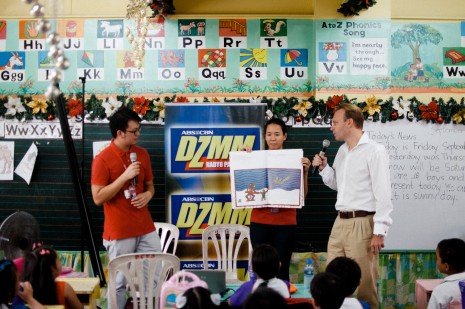 DZMM personalities David Oro and Barbie Salvador also attended the event and read stories to Grade 1-Ilang-Ilang, giving out freebies courtesy of Enchanted Kingdom to the students afterward. Also present at the event was DZMM Station Manager Marah Faner-Capuyan.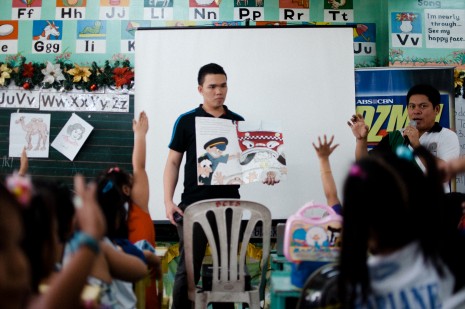 Teach for the Philippines would like to thank and acknowledge DZMM-TLC, Sto. Cristo Elementary School, and all of our partners and friends for another successful community outreach activity! See you again our next outreach event in General Roxas Elementary School this October!
For the full album of photos, click here.