The COVID-19 pandemic has and continues to change the context of the Education System in the Philippines. Students and teachers are entering an unprecedented time of distance learning; replacing the traditional face-to-face classroom environment with a home-based learning experience. Public health and safety has become the paramount focus for national and local governance.
As the new school year approaches, Teach for the Philippines (TFP) continues to work for and with public school teachers and their students. Our mission to deliver excellent and relevant education to Filipino children remains true and incredibly important today so that no child gets left further behind. We now ask ourselves: What can TFP do to help Philippine Education amid the pandemic? How can we adapt to the changing realities of policy, priority, and program?
Ears to the Ground
Over the last three months, TFP implemented a  rapid assessment survey initiative to map out the public education landscape, reach out to our communities, and gather firsthand information in order to strengthen our programs and make them more relevant. This initiative involves rolling out at least three types of surveys aimed at collecting data that would point us towards the most feasible and impactful direction for our work in the new normal.  It's worth noting that in rolling out these surveys, it is not our goal to take a "census approach." It is instead to meet a small sample of our target stakeholders and to "go deep." The organization is aware that it cannot meet everyone, but our approach allows us to see whom we can reach effectively and optimally. 
One of the surveys in this initiative is the  Rapid Access Assessment Survey (RAAS). This run involved 560 respondents, members of student households in placement areas of our Teacher Fellows, to determine their present and local situations. The RAAS studied four survey themes tailored to inform TFP's program implementation in the coming year, namely: Learning Resources (absence or presence of internet), Teaching Capacity (absence or presence of functional literacy among parents/ guardians), Education Preferences (inclination of sending children to school or staying at home), and Household Environment (change in income).
At a macro level, the preliminary results of RAAS showed that most placement communities are open and accessible to the internet. Many households present functional literacy, able to read and/or do math, except in 2 school communities. Inclination to distance learning is widely varied across different placement areas, while there is a significant share of households with reduced incomes.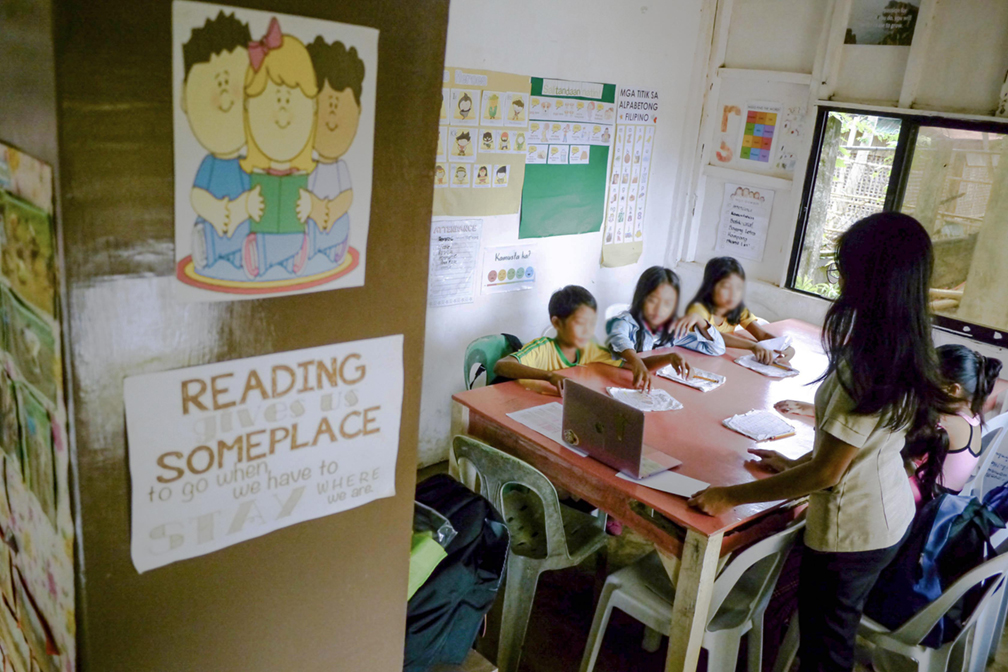 "One of the things that struck me the most about seeing the information firsthand was how diverse our communities' struggles were from each other, which was further magnified by the pandemic. Diving deep into the results and unpacking the realities of each household and community through qualitative responses was essential to understand their context." said Edcel Artificio, Data Impact and Assessment Manager, who processed the data requirements in conceptualizing the project and later on co-developed training modules and data collection tools.
In addition to student and parent context, the Rapid Assessment Governance Survey (RAGS) sought to deepen our understanding of how partner Local Government Units (LGU), Schools Division Offices (SDO), and Principals are thinking about blended learning to safeguard students during these uncertain times. Key insights tell us that School Administrators and leaders are inclined to conduct a mix of online learning and a modular approach where parents can pick up worksheets and other learning resources, and/or receive materials distributed by Baranggay or PTA officers.
Community-Driven Change
Working through the ambiguity of the quarantine, TFP's Instructional Coaching team had spoken to principals in different placement schools and helped build a clearer picture of how the community is doing during the pandemic. Understanding that while some schools are already familiar with and well-prepared for distance learning, there are others who have a long way to go for the coming school year.
Transferring knowledge among educators to navigate the new normal in education was expressed as an immediate concern by school leaders. There is a significant need to train teachers in revising lesson plans through technology and conducting the lesson in a distance learning setup. Our Teacher Fellows and Teacher Leaders are seen as the best resource in building capacity for co-teacher training and adopting new technology in partner schools.
"Talking to our partners helped us gain a better sense of what their current situation is like and what their current needs are. It has also been an opportunity to communicate how TFP is pivoting towards the new normal and how we can help them." said Saira Ferrer, Government Relations and Placement Manager, who engaged with local government partners in responding to the RAGS.
The rigorous collaboration between TFP and members of our school communities continue to yield rich insights and discussions on how to embrace the new learning environment. As the country faces the struggles of a COVID-affected school system, TFP is committed to reimagining excellent education by adapting to changes and overcoming challenges that lie ahead.
True to form, our Training & Development Director, Ginny Villa-Real shared, "The process of engaging and understanding the context of our communities does not end with data gathering; it must be followed by actions that show we have listened."
Sailing Towards Success
Teach for the Philippines is swiftly and critically redesigning our program content and delivery modes to address pivotal education needs. Our Program and Operations teams have been instrumental in leading the rapid assessment surveys along with our Teacher Fellows on-site. 
In continuous collaboration with our partners in the local government and the Department of Education, we will deliver our functional literacy and life skills programs directly to the communities. Using information from RAAS and RAGS, as well as from our community partners, we are migrating our program to various delivery modes, depending on what is most accessible to our students' households. Our reimagined programs also bridge data to development by providing students with skills that will help them adapt to learning in the new normal, while also ensuring that we are aligned with the Department of Education's Most Essential Learning Competencies (MELC). Anchored on strong partnerships with our communities, we will continue to engage parents, barangay, and school leaders to set spaces wherein Filipino students can pursue excellent education.
Our Instructional Coaching Director, Valerie Garde-Farol, had said it best, "When most things are gray, it's not a time to impose but an opportunity to innovate, pivot, and ensure relevance for our most important stakeholders: our students. There's a lot of things that remain unanswered, but we must remain relentless. Let's not look for perfect answers, but for answers that work."
As we adapt to a new normal, Teach for the Philippines remains true to our mission: para sa bata at para sa bayan.
FEATURED IMAGE: We go where we are needed. Teach for the Philippines' rapid assessment survey initiative seeks to deepen our knowledge and understanding of our communities during the pandemic. For us, gathering information and insights today shapes the learning of Filipino students tomorrow. (Photo taken in Saiyan, Zamboanga del Norte)