"As a Reading Teacher, I realized that my students' ability to read could shape their attitude towards education, define their relationships with people, and form their views on life. Reading could mean the start or end of their dreams." shared by Teacher Fellow Kim Dela Cruz ('18) of Sta. Teresita Elementary School, Angeles City on her first year of the fellowship.
Functional literacy goes beyond knowing the alphabet; it involves the ability to understand reading material and is foundational to effective learning. Like 'Cher Kim, many Teacher Fellows help hundreds of public school students become effective members of their community. Reading as a component of functional literacy – developing the ability and enthusiasm to learn new words, stories, and ideas – enables children to dream big and make it happen.
Drawing from its Sa Aklat Sisikat Foundation roots, TFP developed The Reading Remedial Program (RRP) to help improve literacy among non-readers or students identified as frustrated readers in Filipino and English. RRP is a consistent series of learning sessions built around 'decoding' which involves the students' ability to match a letter or combinations of letters with sounds, and recognize patterns. RRP follows a framework which seeks to identify and provide instructional support to students before they fall further behind.
Onward and Up
The Reading Remedial Program has shown promising results at scale this S.Y. 2019-2020. One of the key objectives of RRP is to achieve grade level qualifications for oral reading fluency and comprehension. 59% (161) of 273 student participants, representing Grades 2-6, started as non-readers while the other students were at a Grade 1 or Grade 2 equivalent for reading level.
The number of non-readers dropped to 18% (49 students) by the end of the 40-session Filipino Module cycle. 57% (115) of students grew at least one grade in reading level. On average, they can now read 14 more correct words per minute and comprehension increased by 22% across all grade levels.
In two Quezon City schools, 48 students from Grades 3-6 participated in the English Reading Remedial Program. 35% (17) of these students grew at least one reading level. On average, students read 21 more correct words per minute and student's comprehension increased by 13%.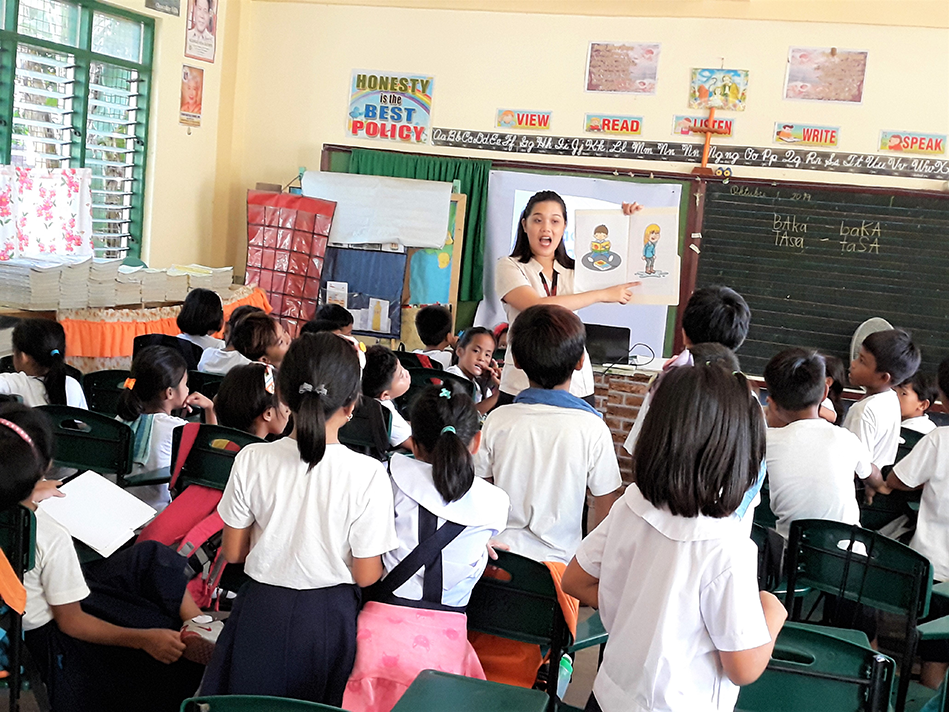 Teacher Fellow Claire Muyco ('18) of Pamurayan Integrated School, Sorsogon City taught English to Grade 3 students for the past two years. She also ran a Reading Remedial Program where through her guidance and her students' perseverance were able to achieve beyond what they initially sought to do. There are now zero non-readers in English for 41 Grade 3 students based on a recent post-test of the Oplan Basa conducted by the DepEd – Division Office.
When asked about his RRP experience, Grade 3 student Andro from Toro Hills Elementary School said, "Masaya, kasi masarap mag-basa. Gusto ko po ulit sumama kasi marami po akong natutunan sa mga pinapabasa sa'min." ("I'm happy, because reading is fun. I want to join again because I learn so many things from what we read.") At its core, the Reading Remedial Program aims to improve the students' mindset towards their ability to read in order to make the learning experience meaningful and enjoyable.
Slowly but surely, students participating in RRP learn to listen, speak, and comprehend vocabulary. They grow into confident readers who foster the joy of books and storytelling. Students who follow their curiosity, feed their creativity, and inspire others to do the same. Reading Teachers, with the support of their school and community, contribute to generations of readers and dreamers who build the nation of tomorrow.
FEATURED IMAGE: "Karapat Dapat" books used in the Reading Remedial Program pilot implemented in Sta. Teresita Elementary School, Angeles, Pampanga were donated by the Center for Art, New Ventures & Sustainable Development (CANVAS). (photo credit) Teacher Fellows ('18) Kim, Sam, and Richmond of Sta. Teresita ES.