January 2015 — Teach for the Philippines Week Flipped (TFP Week Flipped) is a partner event of Teach for the Philippines Week, which took place last September 15-19, 2014. During Teach for the Philippines Week, key leaders in the private and public sectors were invited to guest teach in the organization's partner schools. Conversely, Flipped 2015 strives to bring students on learning trips to world-class educational and professional facilities. The trips create progressive, interactive learning environments complementary to our day to day work in the classrooms. Through this event, we aim to impart on our public school students a "sense of possibility." By meeting different kinds of people and seeing different kinds of possibilities, their view of the world expands and their futures made more tangible.
Flipped 2015 video is available here!
TFP Week Flipped ran from January 26-30, 2015. A total of nine (9) placement schools from our partner cities in Biñan City (Malaban Elementary School), Marikina City (H.Bautista Elementary School, Malanday Elementary School, Nangka Elementary School, Sto. Niño Elementary School), Mandaluyong City (Highway Hills Integrated School, Nueve de Febrero Elementary School) and Quezon City (Holy Spirit Elementary School) participated in the event.
More than 400 students visited government offices such as the Senate and the House of Representatives; corporate offices of HSBC, DHL Express; the Coca-Cola FEMSA Bottling Plant in Canlubang, Laguna; the campuses of De La Salle University-Manila, Ateneo de Manila University, University of the Philippines-Diliman and Malayan Colleges Laguna; as well as The Mind Museum, the Senate Museum and Museo Pambata.
Students were also exposed to notable figures such as Senator Juan Edgardo "Sonny" Angara, Congresswoman Magnolia "Magen" Antonino, Human Resources Coordinator of Coca-Cola FEMSA Philippines Ms. Paola Guevara, Head of Communications of HSBC Philippines Mr. Claro Fernandez, Country Manager of DHL Express Philippines Yati Abdullah, Globe Telecom's Senior Vice-President for Consumer Mobile Marketing Ms. Issa Cabreira, Executive Vice-President for Human Resources Mr. Ato Jiao, and Chief Financial Officer Mr. Albert de Larrazabal. This week-long event was also supported by Starbucks Philippines through the efforts of the Head of Global Responsibility, Ms. Zarah Perez.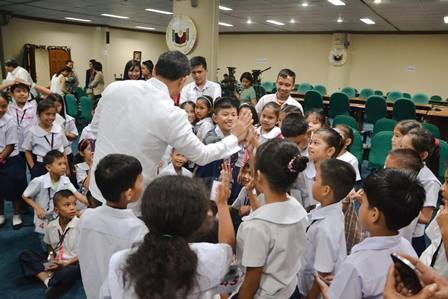 Students with Senator Sonny Angara.
For more information regarding Teach for the Philippines, visit our Facebook page at www.facebook.com/teachforthephilippines.