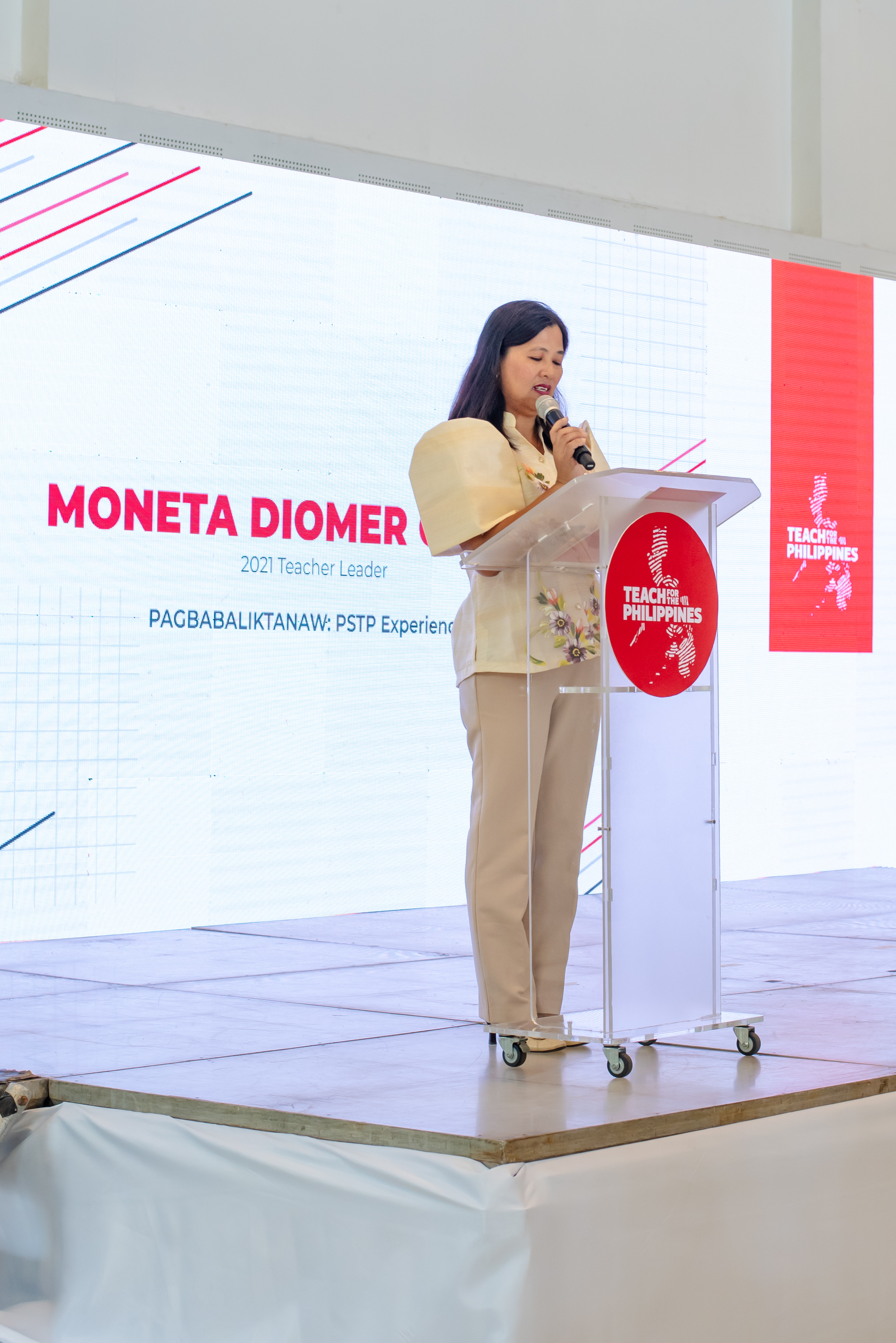 A pleasant afternoon to each and every one especially to TFP's senior leadership, TFP partners, Teacher Fellows and Teacher Leaders, guests, ladies and gentlemen.

I feel honored and privileged to represent the 2021 Teacher Leaders on this significant event. Thank you for the trust given by my co-TLs.  'Di niyo naman po ako pinakaba ng bongga. Kidding aside, one thing for sure, this  will be one of my most unforgettable experiences.

Looking back, I can say that time really flies so fast. As if we just started our journey a couple of months ago, right TLs? Based on my two-year experience, I can proudly say that my PSTP journey is indeed a beautiful paradox. It is a harmonious blend of joy and sadness, wins and challenges, comfort and hardship. It is a journey that is not always easy; thus, our resilience was tested. However, it is in facing these challenges with courage and fortitude that we  discover the true beauty of being a Teacher Leader.  This beauty, much like a soothing balm, eases our  worries and pains, providing a beacon of hope that guides us when we feel like giving up.

The trainings, individual and group check-ins, monthly reflections, class obs, coaching and mentoring sessions had provided us with rich insights and experiences; thus, making each of us more inspired to step forward amidst the  challenges and uncertainties of being a Teacher Leader. We are very thankful for TFP's unwavering  support, which has been very helpful for us to reach this far and shaped us into the Teacher Leaders we are today. The PSTP program  had developed and strengthened our leadership skills, which helped us in many ways and these will always be our strongest armor to brave all the challenges ahead. We are also grateful for the opportunity to expand our circle of friends from different places. From the TLs group, TFs, and from the different teams we worked with, thank you for the love. Meeting you all in person is indeed a wonderful experience. May we all treasure the gift of friendship.
To the 2021 Cohort, Padayon! We were chosen two years ago for a purpose.  We already started so please, don't stop here. We have worked hard towards creating a sustainable impact in our school communities. Hence, let us continue our COMET Programs, adopt the Batang BayaniBayani Bayani and  Gabay sa Gabay Workshops, maximize all available resources and sustain the positive working relationships we have with our stakeholders.
Let us live our purpose. Keep the TFP spirit burning! Together, let us continue to make ripples of change. Kailangan po tayo ng mga batang Pilipino. Tayo ang kanilang pag-asa para makamit nila ang kanilang mga munting pangarap. Let us bring hope to struggling learners. Help them even in the simplest way we can. Maghatid tayo ng ngiti at pag-asa sa mga batang pumapasok na walang lapis, walang papel, walang pangkulay, walang baon… These are just some of the many faces of education. Let us make them feel that we care for them.

Our graduation today culminates the end of our two-year program with the organization, yet marks another chapter for new beginnings, high hopes and aspirations. As we rise up tomorrow and go back to our respectivel communities , let us bring with us all the memories we've shared together since Day 1. May our TFP stories be our inspiration to rally others and create a community of inclusive, equitable, and compassionate education advocates.

Congratulations to each and everyone. Padayon! God bless us all.

Maraming salamat po.