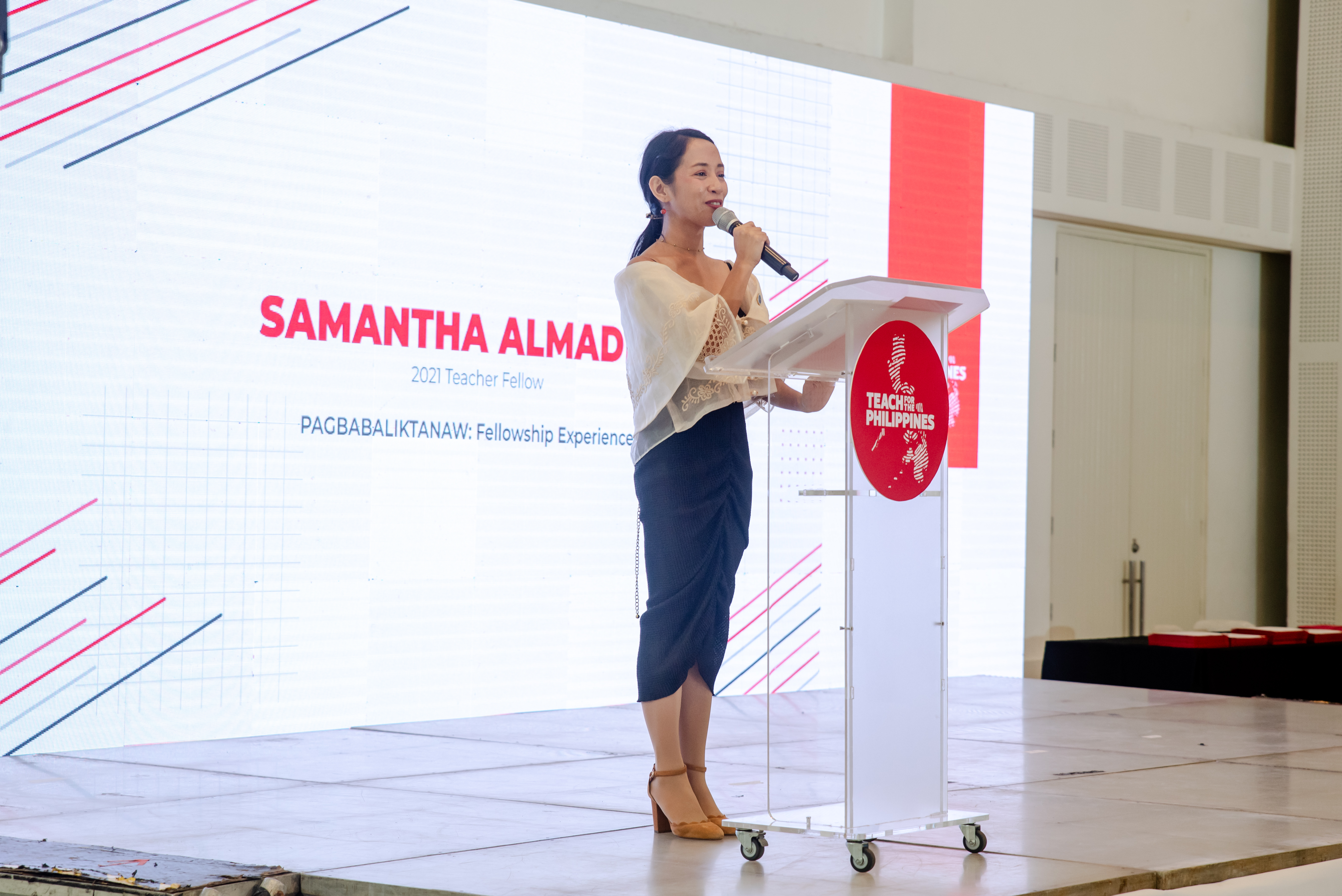 "Para kanino ka bumabangon?" We usually answer it with, "Para sa Bata, Para sa Bayan, Para sa Pamilya. Para sa Panginoon, minsan, Para sa utang, Para kay crush, o Para sa chika." 
But if you ask me, bold and proud, I'll say, of course, "Para sa sarili!" Yabang no? Ito ba ang natutunan mo sa pagiging isang Teacher Fellow? Paano pag sabihin kong, oo? 
It is an honor to face a crowd of education advocates: Teacher Leaders, Teacher Fellows, TFP staff,  fellow Filipinos, and guests. To be honest, I feel like I don't deserve to be speaking in front of you. A five-minute speech is not enough to compensate for sacrifices that you've made for every Filipino child to benefit from an excellent, inclusive, and relevant education. 
We started the Fellowship with the word, Laban. This means to fight, to charge, and to overcome. This is a strong and dangerous word because it's hard to live up to it. We chose this word because we know that at some point, there will come a time when we give up and stop fighting. That's why we chose laban–  to convince ourselves that we will try to fight even if it seems like we are losing a hopeless battle. And there are days when I felt that I couldn't fight anymore. But just when I was about to surrender, a student of mine started to fight for herself, for others, and for the country.
Angel is a grade two student. Sometimes she goes to school with an empty stomach, her legs filled with scars and bruises, and she carries a small bag. She finds comfort in hiding under tables. When you meet her for the first time, she covers her face with her little hands and runs away. It is her way of protecting herself from the harsh reality: that despite our effort, some children like her are still left behind. But, because she was given the opportunity to love learning, Angel is different now. You can see her laughing because she knows how to blend letter sounds, she even teaches her classmates how to read, she gave me her pencils when her classmates didn't bring theirs, and when we skipped a part of the module, she reprimanded me like an adult would, "Ako na nga sasagot. Pagod ka kasi Ma'am, pahinga ka kasi." 
Angel said, "You should take a rest." And to take a rest is a form of respect and love for yourself. As teachers, we don't think of ourselves that much. But what Angel said is a reminder to sleep well, eat right, know oneself, and fall in love with who you are. Love yourself with a sense of responsibility. It is our responsibility to take care of ourselves so that we can fully serve students like Angel and communities who need to be reminded to lead the change. 
Cheers to lives that you are going to change—in the past, at this very moment, or in the distant future– you did, you are, and will be changing lives. To be able to lead the change starts with the risk of believing, not just in others, but also in yourself. You've taken on this challenge because you know that you can, no matter what.
I may not know what the future holds for us, and we may not change the system all at once, but we can influence it by having this integrity, this tenacity, that despite life's harsh realities we must tell ourselves, "I will prevail, wake up for myself, and do my best".
When you give your best and all at something, you'll realize that you have so much love to give. And that love and effort that you've given has inspired others a sense of belief in themselves. And without you even knowing it, they are also showing it to others, one Filipino at a time.
It feels so good to see students love the process of learning. Even at times we don't have a classroom, or that we lack resources, there is no excuse if you have a love for learning. It is so infectious that you cannot help but do better.
Do it for the children: for they deserve so much and just teaching them is not enough. We may teach numerous students to dream, but if they are not supported and given the basic needs, the safe space they deserve, and the countless opportunities to learn, we still fall short of our mission.
Do it for the country: that's why we are called to do more and open up conversations with people from all walks of life. Let us all be observers and look at our communities from a distance, let's put our confidence in them. Once the students and their communities develop their love for learning, we have done our part. This time, we are called to let them go and let them flourish. 
Do it for yourself, Cohort 2021. Let me leave you this message, "magaling ako dahil magaling ka, magaling kayo, at magaling tayong lahat!" We all owe it  to each other to remind ourselves that we are all capable. Kaya wag kang mahiyang bumangon para sa sarili mo 'Cher dahil magaling ka. Bumangon ka para sa sarili mo at makikita rin ng iba na kaya pala nating bumangon para sa sarili nila, para sama-sama tayong bumangon at lumaban, para sa bata at para sa bayan. Maraming salamat po sa inyong presenya.