On Tuesday, June 24, 2014, the launch of the library locator took place at Makati Elementary School.
The library locator is a project initiated by the Library Hub DepEd Central Office, DepEd-NCR, the National Book Development Book Development Board (NBDB) and the Philippines Librarian Association, Inc. (PLAI) to provide adequate books and resources to public school students. The development of the library locator was also supported by Teach for the Philippines.
"What gives the library a purpose," Brother Armin remarked during the inauguration, "is the encouragement to get children motivated to read as early and as much as possible. The development of the library means a further step in the support and improvement of the education in the Philippines. Small advances in the education system, is what then contributes to the growth of the country."
Furthermore, Brother Armin shares his vision on Filipino elementary and high school graduates. He said that he hopes that they would be able to write their own stories. "Our libraries' goal is to help every graduate to write his or her own story, a story that is welling up in his or his heart." In addition, he also gave special mention to Teach for the Philippines in helping achieve this goal of reaching out to the public school students.
The launch concluded with a tour of the library and a brief demonstration on how the library locator works.
After the program at Makati Elementary School, several officials from the Department of Education led by Assistant Regional Director of the National Capital Region (NCR) Dr. Ponciano Menguito, along with the Co-Founders of Teach for the Philippines headed to Fort Bonifacio Elementary School for the official opening ceremonies of the "Booklatan sa Eskwelahan Book Fair.", an event that aims to promote reading among the Filipino youth and expand their access to knowledge.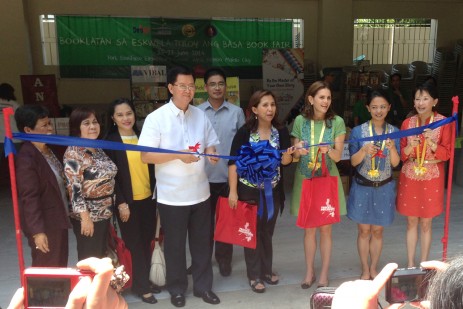 The book fair was initiated by the Department of Education in cooperation with the National Book Development Board. Local and international publishing houses set up booths and sold books at discounted rates. Guests, teachers, and students alike were encouraged to drop by the booths to pick up their favorite book and start reading.
In the afternoon, resource speakers from various education organizations and institutions delivered lectures on literature, writing and publishing to the teachers and students of both Makati Elementary School and Fort Bonifacio Elementary School.