On June 27, 2014, Friday, Teach for the Philippines hosted Leave Your Mark, a mixer event attended by 85 individuals passionate about ending education inequity in the country. Various start-up companies, non-profit organizations, social enterprises, university students and individuals advocating for accessible education came to the Teach for the Philippines headquarters to talk about how we can work towards this shared vision.
Teachers Nikki Vergara and Chess Carlos, both from the 2013 Cohort, addressed the guests at the beginning of the event, to share stories about their experience as a Fellow.
Teacher Nikki expressed her delight in seeing the number of people who turned up at the event, and encouraged everyone to care about advocating education not just through likes or shares on Facebook but through concrete action. "Everything personal is also universal," she remarked, as she continued to explain how sharing our personal advocacies with the world and acting on them together gives us a better chance to achieve our vision.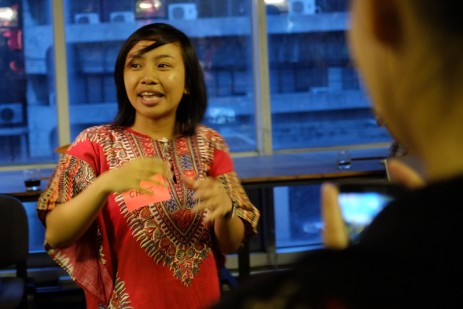 Teacher Chess, on the other hand, expressed her gratitude to the Civic Engagement Program participants from abroad who have been helping out at the Teach for the Philippines' headquarters. She shared how, after the Fellowship, she would like to work in the government to affect public policy on education. In the meantime, she is glad that as a public school teacher, she is positively affecting her students' lives by expanding their horizons. "Malaki pa ang mundo," she had told her students when they were surprised to find out that there were places outside their school community.
The Teach for the Philippines Fellows, Staff, and friends happily mingled with each other for a majority of the night. Our Co-Founders, Lizzie Eder Zobel, Margarita Liboro Delgado, and Clarissa Isabelle Delgado were also in attendance, making sure that everyone was having a good time. Guests had come in as early as 5:00 PM and stayed on as late as 9:30 PM, way past the original plan, before heading out to their Friday night destinations.
To everyone who attended the Leave Your Mark Mixer Event, thank you! We are excited to see collaborations borne out of this event come to fruition in the near future!