Development economist Dr. Leigh Linden, of the University of Texas at Austin, visited Teach for the Philippines last week to help the organization craft a long-term impact measurement framework. Teach for the Philippines holds itself accountable to world-class standards. The organization is developing a multi-year framework for randomized control trials and impact measurement with the Abdul Latif Jameel Poverty Action Lab with whom Dr. Linden is affiliated.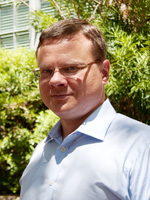 The Abdul Latif Jameel Poverty Action Lab is a global network of researchers based out of the Massachusetts Institute of Technology. These affiliated researchers use randomized control trials to evaluate and answer critical policy questions; their mission is to reduce poverty by ensuring that policy is based on scientific evidence and that research is translated to action.
The week saw Dr. Linden traveling to different parts of the metro area for school visits and presentations. Teach for the Philippines co-hosted presentations with both the Asian Development Bank and the Asian Institute of Management. Network partners were also invited and Teach for Malaysia representatives, Shie Haur Tan and Laxmi Murugan, flew to Manila to spend part of their week learning about the process of randomized evaluations from Dr. Linden.
Several of our placement schools—Commonwealth Elementary School, Krus na Ligas Elementary School, and Sto. Cristo Elementary School—hosted Dr. Linden and gave him the opportunity to meet Principals and observe the Fellows as they taught their students. Dr. Linden also met with the Executive Team, as well as several staff members in Teach for the Philippines' main office. Dr. Linden has had close ties to the organization, dating back to its days as Sa Aklat Sisikat Foundation, the organization from where Teach for the Philippines traces its roots. From 2009 to 2011, Dr. Linden was part of a group of researchers, who conducted a study on the effectiveness of the reading literacy program of Sa Aklat Sisikat. The brief of the 2011 final report can be found here.
We would like to thank Dr. Linden for visiting Teach for the Philippines. His work with the Abdul Latif Jameel Poverty Action Lab accelerates our learning and has a direct effect on our mission to end educational inequity.