The 2013 Cohort of Teach for the Philippines joined the Department of Education in welcoming all of our students as School Year 2013-14 began yesterday. All 53 Fellows entered their respective placement schools in Quezon City today. For the list of placement schools for the 2013 Cohort, click here.
Wearing their public school teacher uniforms, the Fellows all entered their respective classrooms armed with their visual aids and mixed feelings of anticipation, excitement, and nervousness.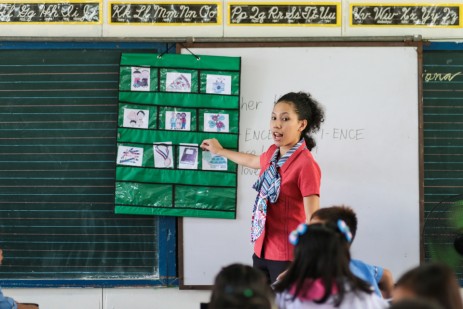 Some of our Fellows were in their placement schools as early as 5:30 AM, getting ready for the 6:00 AM bell for the morning shift. Meanwhile, our other Fellows used their morning to prepare their lesson plans and introductory activities for the afternoon shift, which is from 12:00 to 6:00 PM.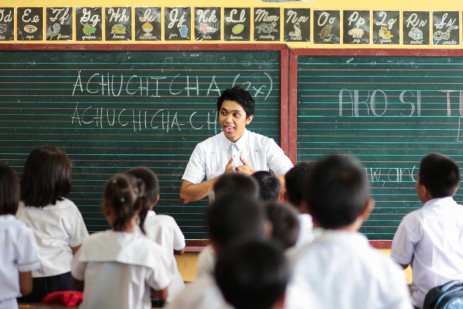 Not even the gloomy weather stopped our Fellows from injecting their high doses of energy into their classes. The Fellows were very enthusiastic in incorporating what they learned throughout Summer Institute to be true leaders of learners in the classroom.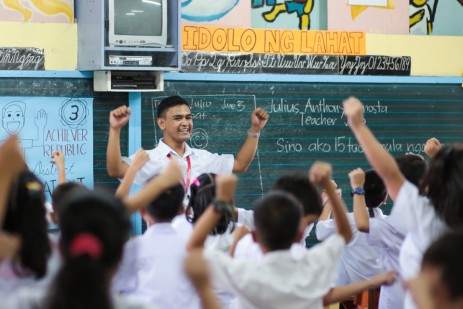 After her first day of class, Steffi Relampagos of the 2013 Cohort shared the following exchange between her and one of her students:
Student: Teacher, bakit iba po kayo? Bakit po masaya? (Teacher, why are you different? Why is it fun in your class?)
Teacher Steffi: Kasi masaya dapat tayong pumapasok. Masayang matuto. Naniniwala kasi akong magiging isang malakas at mahusay kang sundalo, handang lumaban para sa Pilipinas. (Because we should be happy that we get to have an education. It's fun to learn. I believe that you can learn and become a very good and strong soldier, ready to fight for the Philippines.)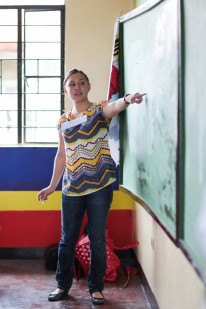 We salute the 2013 Cohort and all of our teachers, who have worked tirelessly to prepare for the school year! We support as you continue to leave your mark on our country by transforming the lives of our nation's children through education!
For the entire set of photos from our Fellows' first day of teaching, click here.
Photos from Louie Arcilla.