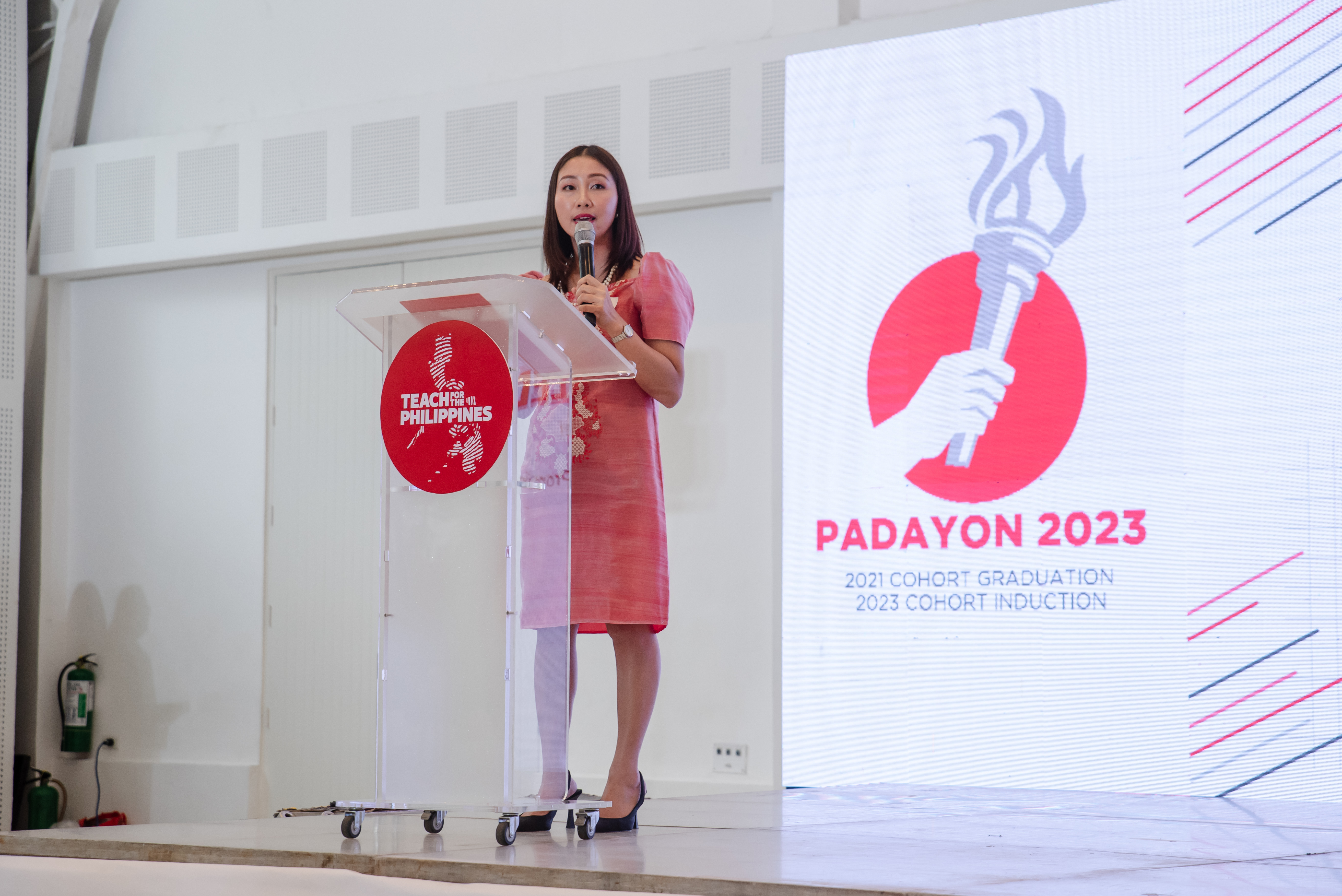 To the TFP senior leadership team, staff, Teacher Fellows, my co-Teacher Leaders and their guests, a pleasant afternoon to all of you.

Life is an adventure with many possible routes; yet, whichever one you select, can be used to determine one's fate.  I guess it was destiny that brought us here. A destiny guided by God's intervention. I believe that God helps us discover the path we are destined to take through the people we meet and the acquaintances we encounter. Hence, this TFP journey that we are about to embark on isn't a coincidence, but is something written in our stars. Our trails crossed because we all have something in common.  And that is our yearning for change. A change that shall fuel our mission of transforming public school education to become that which our children deserve, and that which our country needs.

Being a product of the public school system and now becoming a part of its operations, I'd say a significant number of innovations and breakthroughs were already achieved that made me clearly see the substantial difference of how the system used to be and what it is right now. However, we still have a long way to go in terms of achieving quality basic education. Malayo na, oo. Pero malayo pa.

So, the question is, how can we achieve quality education? Does it have anything to do with the facilities, curriculum, or a teacher's teaching philosophy? I know you would all agree that the actual secret to quality education is having quality teachers.  We teachers play a crucial role in the quality of education because we plan instructional exchanges with and among students centered on academic material, which, in a perfect world, have an impact on students' learning.  Kung ilalagay sa konteksto ng isang Christmas Party ang quality education at magkakaroon ng potluck, ang guro ang may pinakamaraming ambag. And on behalf of my co-TLs, we are here standing tall before you, ready to take on a bigger role to contribute more, this time with a wider reach and a bigger aim.  We are here because we believe that Teach for the Philippines resonates with our beliefs and aspirations. We are here to forge a commitment, that come hell or high water, we will passionately rally our advocacies and causes to fulfill our shared mission of achieving excellent, inclusive and relevant education. Para sa Bata. Para sa Bayan.

Pero paano naman ang para sa guro? This is where I really appreciate TFP. Now, I know where to lead my colleagues in case they search for who or what is dedicated to them. It is so comforting to know that in a modern society where teachers are sometimes unappreciated, extremely overworked, and gravely underpaid, here is TFP to make us feel we are important and cared for.  I remember the first time Ms. Dax and I met together with sir Romel and my principal in the room. After enticing us about the program that appears to be really promising and fulfilling, sir Romel jokingly asked, "What's your ROI here after all the benefits that await us?" Now it finally dawned on me what kind of return of investment TFP is banking on after attending the Summer Institute. It is US, my dear co TLs.  The kind of Teacher Leaders we will be after the fruitful two-year program.

So, to my dear co-TLs, as we begin to adjust our sails to navigate uncharted waters, let us bear in mind that we will never discover new oceans if we are afraid to lose sight of the shore.  Let's take this as a professional challenge wrapped as a gift because it is a gift. A gift that not all teachers get to enjoy. A gift that once unwrapped will reveal the keys for us to further discover our purpose. A gift that will be instrumental in fulfilling our destiny to become better teachers who strive to be in the service of the children and their community.