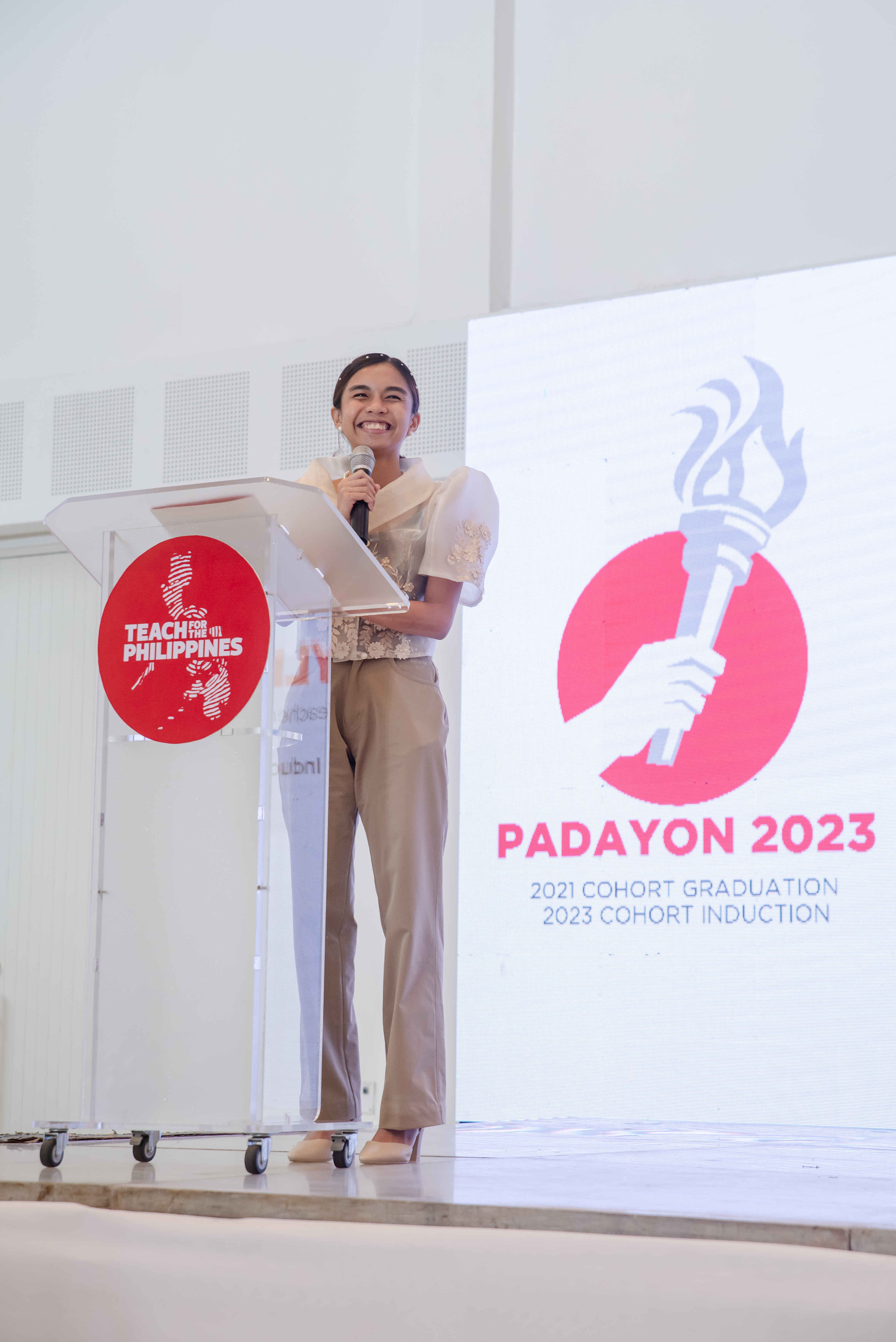 To our dear TFP senior leadership team, staff, guests, graduating 2021 Cohort, incoming Teacher Leaders, and "finally" to my co-Teacher Fellows, mabuhay tayong lahat para sa bata at bayan!
I am not exaggerating when I say that today marks one of the many great milestones that we will be achieving as Teacher Fellows. I still remember that day when me and my co-Fellows went out for a walk to Gesu, a church just inside Ateneo de Manila's campus to clear our headspace and heavy hearts from a very overwhelming, ambiguous, and somehow despairing SLP day. Despite all the challenges that we have been experiencing: from leaving home and living in a very different environment, unlearning concepts that we thought were right, learning new ideas that we never thought would change our lives forever, constantly battling with ourselves if we are good enough to take on this mission, and all the self-doubt and questions if "Kaya ko ba talaga?". All of that was only in the span of two months during the Summer Institute. The real question is– will we even survive the next two years of Fellowship?
Still, we chose to look for a break in the clouds and see the brighter side (#hayag). In this same moment, we are reminded that we are where we are supposed to be and that we are with the right people. May this very moment remind us na "Kinaya natin at kakayanin pa natin." We will because we can. We will because we know why. On behalf of the 2023 Cohort, we invite everyone to continue. Tayo ay patuloy na magmahal, tumaya, at magpalaya.
Magmamahal kahit na mahirap at masakit dahil ito ang kailangan ng bayan. Love is a choice and I hope we choose every single day to place Filipino children at the heart of what we do. Tataya kahit gaano pa kalabo ang bukas. May we wholeheartedly bet on the future of our students where we dream for them and we dream with them in the community. With a great sense of possibility, we shall roll up our sleeves as high as we can to get the job done.
Magpapalaya dahil hindi lang ito tungkol sa storya natin. May the stories we hear from our communities push us to do things that are much bigger than ourselves and drive us to do things that we never thought were possible.
A couple of times in SI, we said: Malayo na pero malayo pa rin. (Can we say that again together?) It may seem like a little silly joke at first, but later on we get to realize that this is the reality. Our work in TFP continues for life. And as for us, it is just about to begin.
To all the people who walked alongside us, from our selectors, facilitators, coaches, trainers, and SI Director– I hope we all made you proud. Maraming, maraming salamat!
To my dear Cohort 2023 "my kahayag". Look, we finally made it. In the brief time we have been working together, I have witnessed how each and every one of us has consistently worked day and night since day one simply because we want to be here so badly. So badly that we cry over literally anything, that our hands would still tremble during teaching demonstrations, that we always run for our lives just to catch the bell before each session starts, that even our dreams at night are still about SI. We want this so badly that no matter how tough times can get, we have never forgotten to smile.
From the bottom of my heart, Cohort 2023, together with our fellow candidates that are most needed somewhere else, thank you for showing up and showing me what a good teacher looks like. I bring with me in my journey to Baclayan pieces of each and every one of you. Daghang salamat Zebras, Hyenas, Baboons, and Rhinos at hanggang sa muli Mama Mias, room 111, room 104, and room 110.
To close this off, from the words of our dear coach, Ms. Tin, lagi nating tandaan: "Taglay ng bawat isa sa atin ang liwanag kaya muli't muli, tayo ay magmamahal, tataya, at magpapalaya". Sabay-sabay tayong magdiwang: Cohort 2023, #Hayag!